City Beat TV
Tom Chappell (TN'T) Interview With Tony Bass (City Beat Media)
Soul-Patrol.com
Tn'T - "Don't Let Go"
(Mind Expanding Soul/Funk)
https://tritommusic.com/
Tn'T (Tom Chappell) is an acronym. It stands for Tom and Trish. 
On one hand, the two of them are the antithesis of the stereotypes 
that surround our media driven view of what modern relationships are 
all about. They are a married couple who have been so for many years. 
On the other hand their reality has nothing to do with "stereotypes.
" Their reality is the same as it is for the rest of us. It's a series of 
ups & downs, good days & bad days, that observed in a vacuum seem 
to be pretty dull/boring.However obsevered in all of it's multi-dimensional 
totality represents all that is truly good and important in life. Understanding this
requires something called "maturity," and the failure to acknowledge the
appropriate level of importance leads to being unhappy.

That is what the music of Tom n' Trish is about. These are the issues &
concerns that they try to highlight. It's important for all of us to try
to consider these things, because at the end of the day it's really all
about how we treat other people. And what you give is truly what you get
back! That is the "mind expanding" part, it's taking the simple things
that we have all been taught (and seemingly have forgotten) and using
them as tools to solve the world of complexity that we deal with on an
individual basis.

Given that we have an understanding that this is going to be the subject
matter of just about any album by Tom n' Trish, what is it about. And
the manner in which they deal with that subject matter is a big part of
what makes this album compelling.

The other part is about the "monster groove." As a lifetime funk music
fan I am always looking for that groove. As a New Yorker, I know that
when that groove is laid down just right, that FUNK becomes something
that I find it impossible to let go of. That is what I heard from start
to finish. That's what made me listen to the whole album. That's what
made me pay attention to the lyrics and ultimately the message that Tom
n' Trish were trying to tell me.

As a music critic, I know that people for whatever reasons are very much
concerned with musical styles. I would like to suggest to you that if
you like the slow burning mid tempo funky groove of artists such as Sly
Stone and Prince that you will like this album. If you like classic slow
jams, then you will like this album. If you like to go out on Friday &
Saturday nights to nightclubs and get all sweaty on a dance floor or
even if you just like to stay at home and "dance in the dark," you will
dig this album. And if you like any of the above done with a smile, then
you will dig this album.

However as a human being, if you find the discussion of life's up's and
downs to be of interest, then you will find Tom n' Trish's funk-d-fied
presentation of the good, the bad & the ugly to be quite compelling!!!

My advice to you if you are reading this is to go ahead and give this
album a shot, when it is released on 7/11, who knows, you might just get
lucky by taking that shot!!!

https://tritommusic.com/


Bob Davis - CEO Soul-Patrol
1636-44 Route 38 #310
Lumberton, NJ 08048


Review – "Another strong indie soul album out of New York. Trish n'Tom Chappell putting together a fine a varied selection of tunes with influences from all around and very well produced and put together." "A most enjoyable album, lots of tracks, not all hit the spot but there are plenty that do, covering a wide range of styles so something ought to grab you. My preferences are I got some loving, Soul Music and the gospel house track I wanna thank you." Mike Ashley "Life and Soul Promotions U.K." "The Juice" Solar radio.com
Something Good -->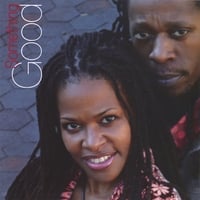 May 25-27 we will be attending the Philadelphia Black Heritage Festival/Soul-Patrol Convention-Black Music Film Festival. On Saturday May 26 we will be performing along with other Soul-Patrol artists at the Black Music Concert/ Awards Ceremony from 12:00pm til 5:00pm. See the link below for details on this historic event.
"Somethng Good does not follow the formula of typical indie album with midtempo jams and ballads. Instead T N' T's (Tom Chappell) Something Good is more like a Jam Session; like their shows the album is very energetic and good spirited. If you're looking for the feel good album of the fall with lots of funk and love then "Something Good" is something worth having. Highly Recommended". ~Ayejay "Da' Muzik Hunta" Spraggins
DJ Correct_AKA_Neptulian Phoenix, AZ
"t's a "delight" to have listen to TNT's new clips from their CD...Thank you for bringing back "real" social content back to "music".
"Yes they are a married couple and they are very clearly in my mind the "Ashford & Simpson" of the Nu Soul" movement. The difference between them is that you get all of these great songs on one album". ~Bob (Nighttrain) Davis Soul-Patrol.com
ArtHausNYC.com
TNT@ Franks Lounge ( Trish N' Tom Album Realease Party) Nouveausoundz hosted the album release for the ever evolving soul duo T N'T. For starters the opening act was a tremendous talent by the name of Karmen Michael. This Texas native is no stranger to phenomenal music with a resume that reads: worked with Pattie Labelle, and Yolanda Adams. Karmen can hold his own vocally by wooing the audience with his original song Song for you, an up tempo soul jam with a 80's retro feel to it. Karmen also performed Don't Stop, Love aint, Karmen went on to flex his vocal muscle on his ballad Let me Leave and No Room For Love. Karmen is also a very conscience person; he sold his single No Room For Love and all proceeds will go to aid the people of Darfur. Karmen also went on to enlighten the audience about The Red Campaign with Gap, Armani and other companies and their commitment to the A.I.D.S effort in Africa. Marko Noble of Injoy Enterprises was called up to introduce the headline act. Opening their set with Welcome To The Party a high octane funk jam that set the mood for the night. T N' T showed great growth both as writers and performers. The energy was contagious and the vibe was so festive. This was not your typical indie show; heads were nodding, feet were tappin' and asses were shaken. T N'T went on to perform Loving You, I Got It. To be loved was the ballad that Trish moved the crowd with her emotional performance. Also performed was Something Good, Soul Music and I got Some Loving For You. T N' T's (Tom Chappell) cover of Eric Clapton's Wonderful Tonight left the audience breathless and wanting more. T N' T housed it up with their song Bet Your Money and their cover of I Wanna Thank You. Tonight was the album release for the Love duo T N' T's sophomore album Something Good. The title tells it all, this married couple put their genuine love for each other and music into an album that showed enormous artistic growth. Something Good does not follow the formula of typical indie album with midtempo jams and ballads. Instead T N' T's Something Good is more like a Jam Session; like their shows the album is very energetic and good spirited. To night was a treat for those who love to jam. AyeJay (Da' Muzik Hunta') Spraggins Soul Grateful AyeJay
beautiful old-skool soulful vibes across these tracks..love the Brand New Heavies comparison cause I can really hear that big heavy stompin, soul vibe coming thru on a track like "want you in my life"..amazing vocal work..lovin the feeling you make with your music!
NEO2Soul Tracking Show
Best Of The EP/LP Show 2014 Part 2 (Jazzysoul radio)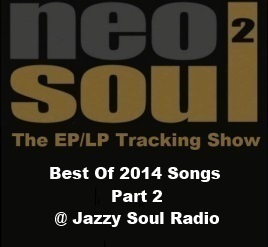 Dedicated in providing the best music you never heard for our audience as an alternative to mainstream music.
Our goal is to help emerging unsigned and independent artists, bands, to connect with opportunities to increase their exposure through the internet radio show Best EP/ALBUMS tracks from 2014 also going back to Albums from 2009 - 2013 all in the mix.
Just playing my part in making a difference to reduce the stigma attached to Soul, Hip Hop, R&B, Jazz, Gospel and other ethnic music genres by playing quality music you want to hear not you have to hear.